Transaction Disputes
Report unauthorized ATM or debit card transactions.
If you notice charges to your account that you didn't make, act fast – contact us right away at
1-877-463-6287.
Steps to resolve a dispute:
Call 1-877-463-6287 and report charges.
Dispute the transaction. You can dispute transactions through Online Banking, the Information Center, or by visiting a branch.
Correct a problem with an authorized purchase.
Did you make a purchase, but the charge is incorrect? Transaction errors happen and we can help. If one of the scenarios below sounds familiar, you should first contact the merchant to resolve the error. If not successful, you should dispute the transaction and we will try to resolve the error with the merchant on your behalf.
Did not receive merchandise you paid for.
Cancelled a service but you're still being charged.
Purchase amount is incorrect on your statement.
Charged multiple times for a single purchase.
Did not receive a credit you were owed.
How to dispute transactions
:
Sign into Online Banking.
Select the account with the charge.
Click on the charge in question.
"⠇options" will appear; click on it.
Select "Dispute transactions" and follow the on-screen prompts.
While our online dispute process is the easiest and fastest way for you to submit a claim, you may also dispute transactions by contacting the Information Center or visiting a branch.
Step 1: Under transaction history or account history, click on the charge in question.




STEP 2: The transaction will expand and "Options" will appear. Click on Options and select"Dispute transactions."







STEP 3: A window will open to verify that you would like to continue with disputing the
transaction. Click the "Dispute transactions" button to continue, or select "Cancel
dispute" if you would like to cancel the dispute process. Choosing either button will bring
you back to your account history page.






STEP 4: If there are any other charges you want to dispute, click on the empty box next to each of
the charges you want to add. Once finished, click on the "Dispute transactions" button
again.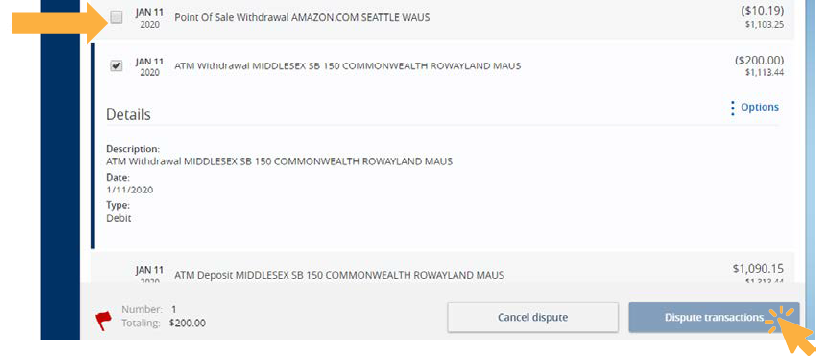 STEP 5: Verify all the charges have been added and select "Continue dispute."





STEP 6: Next, you will need to answer a short questionnaire on the charges you have chosen. When
you have completed this form, please click on the "Submit dispute" button.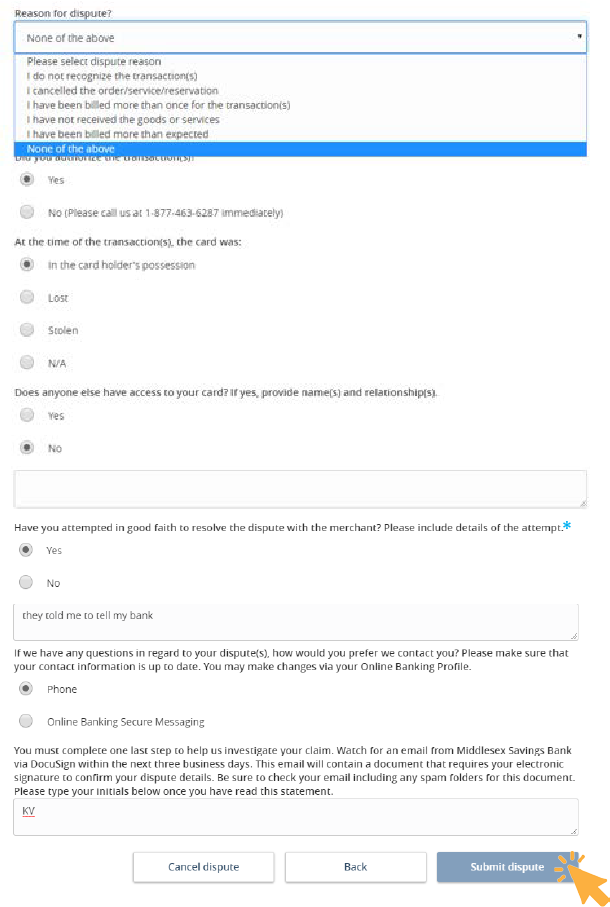 *In the situation of an ATM dispute the ATM is considered a merchant.


STEP 7: A new window will display confirming the dispute has been submitted. Select "Close."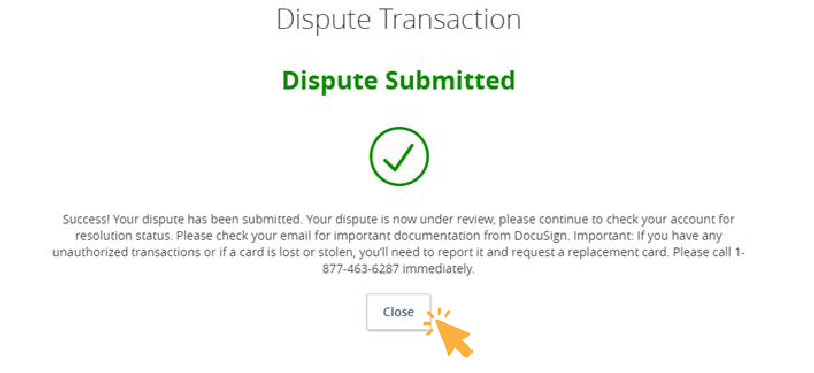 What happens next?
Within 3 business days you will receive an email from "Middlesex Savings Bank Dispute via DocuSign." The email contains an electronic document that we need you to sign.
Please note that the document is time sensitive and will expire 10 business days after you receive it.
When you open the email you will be instructed to review the disclosure. Click on "Accept Disclosure and Review Document."
The dispute form (affidavit) will open with the information you provided to Middlesex Savings Bank.
Click "Continue" to proceed with signing the document.
Select the "Start" button, then click on "Sign."
A new page will open. Click on "Adopt & sign." This will add your signature to the dispute form (affidavit).
Finally, you may click "Finish." The signed dispute form (affidavit) will be sent back to Middlesex Savings Bank and you will receive an email with your signed copy
What do I do if I discover a charge on my account that I did not make, or if my card is
missing?
If your card is lost or stolen, or you think someone used your card without
permission, tell us immediately by calling 1-877-463-6287 so we can close
your card.
Once reported, you will need to dispute the transaction. Transaction disputes
can be initiated through Online Banking, the Information Center, or by visiting
a branch.
Who do I contact if I have questions on my dispute or I come to recognize the charge?
Send Middlesex a secure message through Online Banking, or call the
Information Center at 1-877-463-6287.
I don't have an email address, may I still file a dispute using Online Banking?
Yes, you may. If you submit a dispute and you don't have an email address we
will mail you a dispute form (affidavit).
What are the little red flags I see in my account history when I am in Online Banking?
The little red flags are the charges that have a dispute associated. If you click on
the charge, you will see the status.
How long do I have to wait before I receive money on my dispute?
In general, we will investigate your dispute and let you know the results within
10 business days. If we need more time to investigate the dispute (especially if
there are 3rd parties involved), we will let you know before the 10 day period
ends. Under certain circumstances, you may receive provisional credit and use
of the funds while we continue to investigate the disputed transaction(s).
Consult the account disclosure
here
for more information.
Nothing opens when I click "Accept Disclosure and Review Document" in the email.
Occasionally the hyperlink to DocuSign will not work. Should this happen, look
for the section "Alternate Signing Method" within the email.
Visit DocuSign.com, click "Access Documents," and enter the security code
listed within the email.

Why am I getting multiple dispute forms (affidavits) for one dispute?
Occasionally when you choose multiple charges in a dispute, multiple dispute
forms (affidavits) will generate for each charge. Please electronically sign each
dispute form (affidavit).
What do I do if I have multiple disputes but for different reasons?
If you notice multiple charges that you would like to dispute, but the charges
are being disputed for different reasons, you will need to complete a separate
dispute for each reason type.
For additional information, contact our Customer Information Center at
1-877-463-6287 Monday - Friday (7:00 a.m. to 7:00 p.m.),